Chapter Mega Event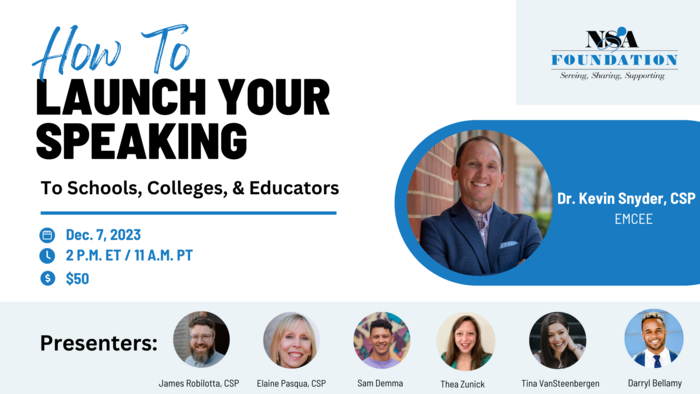 DATE: Thursday, December 7, 2023
TIME:  2pm EST / 11am PST
LOCATION: Zoom! Zoom Link will be sent following registration.
Ever desire to pivot your professional speaking to also include middle and high school students, college students, educators and/or faculty?  
The education space provides an exciting ocean of possibilities to equip, empower and transform our youth who need to hear your message to help prepare them for the real world out there.  Professionals need to be equipped and empowered too!
Join this special virtual event to benefit the NSA Foundation where you'll hear from full-time professional speakers who STARTED their professional speaking in the youth, college and educator markets and continue to do so.  Our presenters span multiple NSA chapters and are volunteering their time to help you learn how to launch your speaking to students and educators at various levels.
View our expert panelists below who will then lead specialized breakout rooms to share more and answer your questions.
Yes, this event will be recorded and sent to all registrants but we hope you will join us LIVE to engage and ask questions. If you've ever desired to speak in the education space, we are confident this event will be a game-changer for your speaking business and influence!  


EVENT EMCEE:
Dr. Kevin Snyder, CSP

PRESENTERS:
Darryl Bellamy
Sam Demma
Elaine, Pasqua, CSP
James Robilotta, CSP
Tina VanSteenbergen
Thea Zunick